Caterina Formenti (1967)

Pittrice di formazione, diplomata in Pittura alla Accademia di Belle Arti di Brera, a Milano, al suo lavoro di ricerca affianca da anni collaborazioni con riviste, strutture e privati come pittrice, illustratrice, art buyer e decoratrice di interni.

Creatrice di disegni per la produzione tessile, collabora come illustratrice con la rivista Il Diario della Settimana e varie produzioni discografiche. Dipinge su commissione falsi d'autore spaziando dal rinascimento al contemporaneo.

La ricerca personale su tecniche e materiali si muove tra le tradizioni europee, estremo orientali e africane e le moderne tecnologie informatiche, creando un percorso ricco di contaminazioni culturali.

In ambito didattico realizza laboratori di creativita' e pittura per adulti e bambini.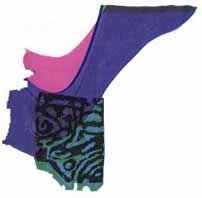 Artist painter she achieved a painting degree diploma at the Accademia di Belle Arti di Brera in Milan.

She has a sixteen-year experience in independent creative production while cooperating with several art magazines, corporate entities and private individuals as painter, illustrator, art buyer and interior decorator.

She operates in the textile sector as pattern drawer. She cooperated as illustrator, inter alia, with the Italian magazine Il Diario della Settimana. She was responsabile for the artistic aspects of different music recording projects.
She specialised in Master Reproductions which she paints on commission with a repertoire ranging from Renaissance to Contemporary Art.

In the education sector she holds creative painting workshops for children and adult learners.

Her artistic research on techniques and materials ranges over European, Far East and African tradition on one hand and modern information technologies on the other, building a path rich in cultural contamination.